Focus On: Guo Wenjing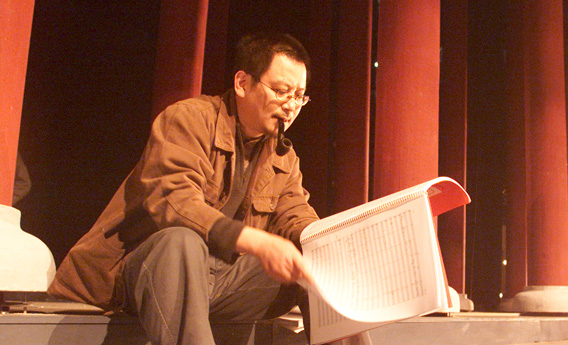 During Guo Wenjing's first significant trip abroad—a belated six-month New York residency in 1996–1997 under the auspices of the Asian Cultural Council—the Sichuan-born composer finished a piece for cello and ensemble. He hated it. In his program note, he apologized by saying the table in his apartment was unsteady. "One should never compose on a shaky table," he maintains.
Those who know Guo's life story could hardly miss the metaphor. Much of the composer's allure in Europe and the US has been due to the fact that—unlike fellow Central Conservatory students Tan Dun, Chen Yi and Zhou Long—he never left China, resulting in a palpable rootedness in the cultural soil. Rather than inertia, this was a conscious decision: Supporting himself in Europe or America would've taken time away from his art, he claims. So too would it have distanced him from the traditional instrumentalists and singers who have been his most constant source of inspiration.
China's turbulent culture today is nearly as potent an influence as traditions of the past. "As a Chinese composer living in China, it is my job to express my feelings about what is happening here right now," he says. "Some of my classmates have been very successful in America. They've even become American citizens. But from my point of view, they'll never become American … Even if I'm successful in America, if American people love my music, so what? In one simple sentence, I don't feel that could be my final resting place."
In Guo Wenjing's Own Words
On being a "Chinese" composer:
"I don't make music for the world or for China. I make what I like. That music is greatly influenced by my past and my cultural background. My work is not based on any given theory. And I don't have a motto. I follow my heart …"
"I don't know what a Chinese composer should be. No one can regulate what Chinese music should be. Any pre-design of what is or is not Chinese will be wrong. My purpose is to create, and I feel that there's ground beneath my feet. Even if the Chinese people don't accept me, my compositions are still part of Chinese culture—or at least a part of contemporary Chinese life—simply because I live in China."
On the Cultural Revolution:
"During the Cultural Revolution, fighting swept through Chongqing. There were tanks in the streets. They shot guns and cannons from ships on the Yangzi. It was dangerous, but I was a child. I enjoyed watching the fighting. Then my parents bought me a violin so I would stay indoors. That was my first introduction to music."
From "The Yangzi Wind", first published in China's ARTSTODAY.COM, November 1999
In eastern Sichuan, there is a popular type of folksong called luo-er—almost each line of text ending in the word luo-er. One of the most famous of these tunes is "The Sun Rises Joyfully"; the opening lyrics are "The sun rises luo-er, joyfully luo-er …" Read more »