Watch a Video
Composers Tan Dun and Chen Qigang discuss their membership in the Class of 1978.
Interviews with Lang Lang, Long Yu, Tan Dun, and Chen Qigang © 2009 The Carnegie Hall Corporation. Footage of Chen Qigang from the film "Broken Silence" (Directed by Eline Flipse); Footage of Isaac Stern and Beijing Conservatory from the film "From Mao to Mozart" (Dir. Murray Lerner) courtesy of Murray Lerner Films.
Listen
Related Essays
Class of 1978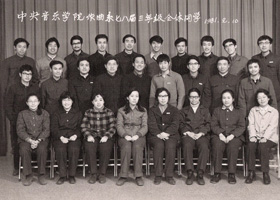 As a blanket category for a diverse musical generation, China's "Class of 1978" marks not the year of graduation, but the point of entry—a heady time when educational institutions first re-opened after the decade-long lapse of the Cultural Revolution (1966–1976). Applicants competed aggressively—not only in their immediate age group, but with 10 years' worth of candidates just coming in from the cold. Strictly speaking, as class member Liu Sola has pointed out, the students had been admitted in 1977, but the Central Conservatory of Music had to delay its opening until the next spring because of the severity of the required renovations.
Music has often thrived in adversity (just think of Stalinist Russia), but the Cultural Revolution also left a particularly significant legacy by introducing an entire generation of Chinese artists to their own people. In part through enforced "relocation" to the countryside—echoed later in mandatory fieldwork at the conservatory—the shared experiences of these educated elites for the first time embraced the range of China's expansive culture. Among their varied musical styles, the "Class of '78" perhaps shares only a single unifying principle: Whether they remained in China or relocated to the West, these composers have wholly rejected the concept of an "international" style. Theirs is a modernism inconceivable without a distinct point of origin.
Much like calligraphy, their lives have followed the same broad strokes. Each was uprooted from an urban childhood and shipped to a far-flung region of the country. Each was awakened by musical possibilities at the conservatory during a time when China itself was coming to terms with its recent past. But just as calligraphy is distinguished by a personal flourish, many of these artists developed notably distinctive voices through the particularities of their upbringing and their subsequent paths.
Tan Dun, having grown up amidst shamanistic culture in rural Hunan, discovered Western music in Beijing at the Central Conservatory and eventually became empowered by America's musical shaman, John Cage. Bright Sheng, a Shanghai native and an alumnus of that city's conservatory—the oldest institution of its kind in China—found both his voice and an entire way of musical life through Leonard Bernstein. Fellow Shanghai native and graduate of Beijing's Central Conservatory, Chen Qigang later settled in Paris, where he became the final student of Olivier Messiaen.
Through the graces of Chou Wen-chung, the composer and Columbia University professor, many of these young composers relocated to New York, where they discovered a Western compositional world newly awakening to a frame of reference outside itself. Much in the spirit of Bartók, whom each claims as a modernist ideal, these composers have found distinctive ways of expressing their cultural roots in a post-serial world, which Guangzhou-born Chen Yi likens to "thinking in Chinese, but writing in a western idiom."
The question of what makes a "Chinese composer" is no easier than determining what makes an "American composer." Nor, in our global age, are the vantage points of émigré and Chinese national so mutually exclusive. Coming to the New World once meant leaving the Old World forever. Today, as composers cross increasingly porous borders for performances and teaching positions, the line blurs between those who have brought China to the world and others (like the Sichuan-born Beijing-based Guo Wenjing) who have brought the world into a rapidly modernizing China.
From its very beginning, the "Class of '78" stirred the imagination, its unapologetic claims to free expression igniting unprecedented controversy in a country where "Serve the People" was still the reigning sentiment. But as the composers and their music have traveled throughout the world, so too has the debate. Even today, they remain at the core of a greater cultural dialogue between the influences of modernity and tradition.
Program Notes
THE PROGRAM

CHEN QIGANG (b. 1951)
Instants d'un opéra de Pékin for Solo Piano

About the Composer
An elder member of the Class of 1978, Chen Qigang was also the first of his class to leave China. Well before his Central Conservatory colleagues Chen Yi and Zhou Long relocated to America, Chen became the first Chinese composer to be awarded a state grant to study in France. The son of an established Shanghai literati family whose father had once been the head of the Beijing Academy of Fine Arts, Chen's attraction to France had been purely aesthetic, though he credits his later studies with Messiaen with teaching him the essence of art. In 2008, Chen returned to Beijing to become the music director for the Olympic Opening Ceremonies.


About the Work
Though best known for his orchestral and large ensemble pieces, often combining Chinese instruments in a thoroughly Western (not to say Francophilic) setting and form, Chen composed his first—and to date, only—work for solo piano as the required piece for the semi-final round of the 2000 Olivier Messiaen Interpretation Competition in Paris. His admiration for his old teacher is on every page, and Messiaen responded in kind, claiming that the piece revealed a total assimilation of Chinese thinking to Western musical concepts. Tonight's performance will be Chen's revised version from 2004.


A Closer Listen
Instants d'un opéra de Pékin (Moments at the Peking Opera) fully exploits the percussive nature of the piano, evoking a sense of gongs and cymbals characteristic of the traditional Chinese stage. Melodically, two pentatonic themes appear right from the introduction and thread their way throughout the entire piece, building to a virtuosic climax before wafting away at the end.

Performance Time: approximately 8 minutes

Premiere: Composed in 2000, Instants d'un opéra de Pékin received its Carnegie Hall premiere in Weill Recital Hall on April 9, 2009, with Cherry Chit-Lai Tsang, piano.



CHEN YI (b. 1953)
Qi for Flute, Cello, Percussion, and Piano

About the Composer
The middle child of two medical doctors in Guangzhou, Chen Yi began violin and piano studies at age three. Some 12 years later, when each family member was sent to a different corner of the country, the young violinist would entertain peasants and soldiers—in between bouts of back-breaking labor—by spicing Revolutionary songs with Paganini-like embellishments. It was precisely that juxtaposition of a performer's knowledge of the instrument and a composer's fascination with different musical languages that still, after more than 100 commissioned works, has come to define her music. In 1998, she began teaching at the University of Missouri at Kansas City, where she is now a Distinguished Professor.


About the Work
Qi combines many literal performance techniques of Chinese instruments (adapted to their Western counterparts) with the overall abstraction of Western musical composition to illustrate one of the more elusive concepts in Eastern thought: the feeling of qi (also Romanized as chi in the Wade-Giles system), the essence of life force. Qi is untouchable, mysterious, very strong, and powerful, says the composer. It melts into the air and light, like the space in Chinese paintings.


A Closer Listen
In this piece, the flute and cello in particular take on the sonorities of their Chinese counterparts, largely diffusing any culturally specific associations in their sounds. In my composition, I translate my general feeling of qi, the element in nature, into my musical language in a quite free and slow tempo, says Chen. There are exaggerated textures with tension, in which I try to sound the inner spaces and spirit of human beings, to experience this eternal power.

Performance Time: approximately 10 minutes

Premiere: Composed in 1997, this evening marks the Carnegie Hall premiere of Qi.


BRIGHT SHENG (b. 1955)
String Quartet No. 3

About the Composer
Bright Sheng became the first Class of 1978 composer to gain professional attention in New York with H'un (Lacerations): In Memoriam 1966–76, a bracing response to the Cultural Revolution. During those years, Sheng had been sent to Qinghai on the Tibetan plateau, where his position as pianist in a song-and-dance troupe left him much time to collect regional folk tunes. By the early 1990s, he had become known among critics as the Chinese Bartók for his ability to relate Asian folk material on fully Western terms. A winner of many awards and commissions, including a 2001 grant from the MacArthur Foundation, Sheng is a Distinguished Professor of Composition at the University of Michigan.


About the Work
Sheng's String Quartet No. 3, dedicated to the Takács Quartet, was inspired by the memory of a Tibetan folk dance that the composer discovered in the early 1970s. What I remember mostly about this particular dance, he says, is that it started with freely rhythmic folk singing and segued into a very rhythmic dance through which the singing continued. Although the structure is largely determined by Sheng's memory of the dance, it does not incorporate any literal folk tunes, instead using that memory merely as a point of musical departure.


A Closer Listen
The composer again courts his Chinese Bartók label in perhaps the Hungarian master's most representative form, putting his respective string instruments through a full range of modern playing techniques. Opening with hushed harmonics, the piece gradually builds in intensity until the final larghetto section, which the composer wrote as an elegy in memory of friends who had died in recent years.

Performance Time: approximately 19 minutes

Premiere: Composed in 1993, String Quartet No. 3 received its Carnegie Hall premiere in Weill Recital Hall on March 4, 2003, with the Shanghai Quartet.


GUO WENJING (b. 1956)
Parade for Six Peking Opera Gongs, Op. 40

About the Composer
Guo Wenjing, the sole composer on tonight's program to have remained in China (and so honored at home as one of the country's Top 100 Living Artists), was actually the first to have his music played in the West, when his Suspended Ancient Coffins on the Cliffs of Sichuan for two pianos and percussion was premiered in Berkeley, 1983. The piece remains characteristic of his music today in fusing a modernistic musical language (largely indebted to Bartók) with a strong musical flavor of Guo's native Sichuan. The former head of the Central Conservatory composition department, Guo remains on the faculty and maintains an active schedule of commissions for musical organizations both at home and abroad.


About the Work
Perhaps the most consistent trait of Guo's music over the years has been his use of percussion, in which he has developed an elaborately notated vocabulary of extended techniques based on traditional playing styles. The Chinese title of Parade (Xuan), originally commissioned by Percussion Group The Hague, is a Chinese pun: It means glitter, as in shiny metals, the composer explains. It also means display, as in performers showing off their talent. The work, using six Peking opera gongs, is a companion to Drama (Xi), Guo's 1995 percussion trio for three Peking opera cymbals that has become his most performed piece.


A Closer Listen
Compared to the music of his colleagues who emigrated abroad, Guo's music has a subtle difference: While other pieces on this program aim to broaden the world of modern composition with Chinese sonorities and musical structure, Guo's music brings the possibilities of Western modernism to bear on a distinctly Chinese tradition. Though rooted in a history of percussion writing from Cage and Varèse to Xenakis and Reich (with a particularly Reichian range of sound from the narrowest of sonic possibilities), Parade begins and ends with the Chinese operatic stage, drawing on an essential theatricality in its performance.

Performance Time: approximately 16 minutes

Premiere: Composed in 2004, this evening marks the Carnegie Hall premiere of Parade for Six Peking Opera Gongs.


ZHOU LONG (b. 1953)
Taigu Rhyme for Clarinet, Violin, Cello, and Percussion

About the Composer
Unlike many of his colleagues, whose blend of music and esthetic elements from both native and adopted cultures in part reflect their own life story, Zhou Long's musical principles were already well established before he left his homeland. For him, the Chinese ideal where cultural greatness was a direct reflection of its interaction with neighboring cultures was the Tang dynasty (CE 618–907). That worldview was far removed from Zhou's teenage years during the Cultural Revolution, when China was decisively isolated. But even then, as a musical arranger for a song-and-dance troupe near Inner Mongolia, Zhou first encountered clarinets and cellos sitting alongside traditional Chinese instruments. Today he is a professor of music at the University of Missouri at Kansas City.


About the Work
Taigu Rhyme was written for the Bridge of Souls organization's Concert of Remembrance and Reconciliation. It is a re-creation of the original dagu drumming of the Tang dynasty, which grew out of both court and Buddhist drumming styles and was later adapted by Japan into the intricate taiko tradition. In this piece, Zhou makes claims only to personal, not historical, authenticity. The Tang dynasty has no surviving musical tradition, he says. But the literature has many detailed descriptions of how it sounded, and the language of the poetry itself already suggests music to us today.

A Closer Listen
Zhou Long describes the piece: Taigu Rhyme opens with three drummers on the chu (medium drum) and odaiko (large drum) beating a slow rhythmic pattern. The middle section is inspired by ancient Zhihua temple music from Beijing. The clarinet evokes the sound of the guanzi, a double-reed instrument used in the temple ensemble, with a singing melody accompanied by a haunting free-tempo ritual atmosphere in the ensemble. The last section breaks in with a return to the opening motifs and a vivid tempo drives the work to the end.

Performance Time: approximately 12 minutes

Premiere: Composed in 2003, this evening marks the Carnegie Hall premiere of Taigu Rhyme.


—Ken Smith
© 2009 The Carnegie Hall Corporation