Watch a Video
Lang Lang discusses the role of young Chinese musicians in music today.
Lang Lang interview © 2009 The Carnegie Hall Corporation. Footage of Lang Lang in China from the film "Dragon Songs" (Dir. Benedict Mirow), used courtesy of NIGHTFROG Productions
Related Essays
Chinese Musicians in the Western Classical Tradition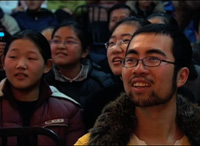 "I feel very lucky that I'm able to share my music with other people," says cellist Wang Jian, whose engaging performance for Isaac Stern in the final segment of the Oscar-winning film From Mao to Mozart at age 10 turned out to be the first step toward his future concert career. "If you look at the generation before me during the Cultural Revolution, we had great artists," he adds, "but they had no possibilities of doing what I do."
Likewise, music students in China today have opportunities their parents had never dreamed of, from greater ease in travel to an extraordinary flowering of performances at home. Even before Beijing's National Center for Performing Arts raised the bar dramatically last year, hardly a week went by without a distinguished musician stopping through Beijing and Shanghai, their tours usually including a visit to the major educational institutions. To a degree unthinkable during Stern's groundbreaking outreach tour 30 years ago, Chinese music students now have the world coming to them.
Perhaps more relevant to the younger generation has been the number of Chinese musicians trained abroad who have returned to China to teach. "Students today know so much more than I did at their age," says US–trained violinist Vera Tsu, another participant in Stern's pioneering master classes in her youth and now a professor at the Central Conservatory of Music. "They see more, and they're free to go anywhere, unlike in my time."
Young people everywhere hear how much harder it was for their elders, but China offers a particularly arresting example, with today's students encouraged to do the very things that often landed their grandparents in prison. But how many times can a youngster hear about having to copy musical scores by hand—often from memory—when they now have the internet at their fingertips? Or about shuttering the windows before playing Mozart, now that Western music studies are high on the country's educational agenda?
China is often cited as the last remaining growth market for classical music, which is true precisely because the country still has so far to grow. Most of China's new concert halls and opera houses are still on the prosperous east coast; the US, of all places, realizes how national dynamics can change once regional capitals, newly flush with cash, start claiming their share as well. For all the attention given to the conservatories in Shanghai and Beijing, it is the Chengdu Conservatory in Sichuan province—with nearly 15,000 hungry music students who will soon be looking for new opportunities—that indicates the wave of the future.
Like Japan and Korea in earlier decades, China has already changed classical music's global demographics. The sheer size of the country, however, is bound to change the game altogether. Inspired by a growing number of international figures like Tan Dun and Yundi Li, China's 80 million music students have set out to conquer the world, but their biggest revolution will surely be at home. Just as The Economist has dubbed the effects of China's one-child policy as "one mouth, six pockets" (with each youngster supported by doting parents and two sets of grandparents), the future of classical music in China is "one player, six tickets."
"The Chinese people have known about this music for some time," says Wang Jian. "They've always liked and appreciated it. But they've always thought about it as someone else's. It wasn't their music to criticize, or to make their own. This is what Chinese musicians can contribute. If enough people hear us play and say, 'they look like us,' we can bring down that wall."
Program Notes
THE PROGRAM

FRANZ SCHUBERT (1797–1828)
Rondo in A Major, D. 951

It is altogether fitting that a program titled Lang Lang and Friends opens with a work that was in fact written for friends. Music for piano, four hands, was a favorite medium in the late 18th and 19th centuries, and no famous composer wrote more of it than Schubert. (It is worth noting that the very first entry in Otto Deutsch's chronological catalogue of Schubert's music is a piano duet, composed when the lad was 13.) This was a form of Hausmusik, music composed expressly for the enjoyment of close friends, casual acquaintances, and guests who gathered in private homes for informal musical parties (in Schubert's case, the so-called Schubertiads). Those who possessed some measure of musical ability joined in at whim. A Schubertiad invariably included some of the composer's latest songs, piano pieces, or chamber works. A composition like the Rondo in A Major, D. 951, would have made an ideal contribution to one of these congenial events, with Schubert playing one part and a colleague or friend—perhaps an admiring young lady—playing the other. This was home entertainment in the days before non-participatory amusements like television, web-surfing, and video games became the norm.

The Rondo, D. 951, is one of three works in this medium that Schubert composed in 1828, the year of his death. (The great Fantasy in F Minor and the Allegro in A Minor, Lebensstürme, are the other two.) While it lacks the emotional stress and drama of these other works, it more than compensates in its genial, sunny disposition, flowing lyricism, and wealth of subtle detail. Many listeners find that in both structure and character it closely resembles the final movement of Beethoven's Sonata No. 27 in E Minor, Op. 90 (1814).

Performance Time: approximately 11 minutes

Composed in 1828, the Rondo in A Major, D. 951, received its Carnegie Hall premiere in Carnegie Recital Hall (now Weill Recital Hall) November 2, 1974, with pianists Marga Friedlander and Rita Koors Myers.


SONG TEXTS

"Mama"
Gu Jian Fen

I miss the little river that runs in front of my house, and the singing mill on the river bank. Oh, Mama. If you see a tide smiling to you, that is me.
 
I miss the smoke from our little kitchen and the carriage on the muddy road.
Oh, Mama. If you hear a bamboo flute singing to you, that is me.
 
I miss the bright moon in my hometown, and the reflection of the mountain in the river.  Oh, Mama. If you hear a song flying to you, that is me.
 
 
"Chinese Fisherman's Song"
(Traditional Northern Folk Song)
 
The long waves over the blue Usuli River are rocking the boats,
The golden sunlight is shining upon the sails.
Happy fishermen are rowing their boats and collecting their nets.
Sing a song to welcome a prosperous New Year.



MACK WILBERG (b. 1955)
Fantasy on Themes from Bizet's Carmen

Mack Wilberg is Associate Music Director of the Mormon Tabernacle Choir in Salt Lake City, Utah. He has composed and arranged many works for the choir, and many others that have been performed by such artists as Renée Fleming, Frederica von Stade, Bryn Terfel, and the King's Singers. Using themes from what is possibly the world's most popular opera—Bizet's Carmen—Wilberg passes them through a lens of modernistic procedures and harmonies to produce his own formula for a fantasy that alternates quiet reminiscences with spectacular pyrotechnical displays. The scoring is for four performers on just two pianos. That's 40 fingers at work!

Performance Time: approximately 9 minutes

Composed in 1990, Fantasy on Themes from Bizet's Carmen received its Carnegie Hall premiere in Weill Recital Hall on October 14, 2001, with pianists Jean Barr, David Michael Riley, Thomas Lausmann, and Robert H. Smith, Jr.


PIOTR ILYICH TCHAIKOVSKY (1840–1893)
Piano Trio in A Minor, Op. 50

Tchaikovsky wrote his Piano Trio in memory of a great artist, Nicholas Rubinstein. Rubinstein had been one of the composer's harshest critics, but he had also been one of Tchaikovsky's teachers, a friend, a trusted colleague, and the man who had given him a job as the first Professor of Harmony at the newly founded Moscow Conservatory while he was still a student. Tchaikovsky was staying on the Riviera when he learned in March 1881 that Rubinstein had died in Paris. He made the journey to the French capital to pay his last respects and to deliver an obituary. In December, he began writing the Piano Trio and completed it in just two months.

Tchaikovsky's tribute to Rubinstein took two forms. One was the unusually difficult piano part in the trio. (Nicholas, like his more famous brother Anton, had been a superb pianist). The other was the use of a folk-like theme as the basis of a series of variations in the second movement, reflecting Rubinstein's love of Russian folk song. It also recalled a day in 1873 when the two friends had gone for a picnic in the mountains near Moscow and were given an impromptu performance of folk music by peasants.

The first movement, called Pezzo elegiaco (elegiac piece), is in sonata form, and contains no fewer than five clearly defined themes. Tchaikovsky's procedure is to present a theme, then expand upon it for a while before moving on to the next. These range in mood from the deeply melancholic opening theme in the cello to the noble, affirmative second (blocked chords in the piano), to the sweetly yearning third (also introduced by the piano), the plaintive fourth (violin and cello in octaves), and the coyly beseeching fifth (violin).

The second movement, lasting more than one-half hour, consists of an original folk-inspired theme followed by a series of 12 variations, the last of which amounts to nearly another movement in and of itself. The first two variations are straightforward repetitions of the theme by violin and cello in turn. Beginning with Variation III, Tchaikovsky becomes freer in his treatment of the theme. This is essentially a piano variation alternating playful snatches of staccato chords with rippling arpeggios. Variation IV is a canon for the strings, while Variation V delivers a music-box effect with the tinkling piano playing the theme over a drone in the strings. The sixth is a gem of a waltz (how Tchaikovsky loved the waltz!), the seventh another piano variation in massive chords, the eighth a fugue, and the ninth with a whiff of mystery. One commentator suggested that Land of gloom, land of mist would make an appropriate title—the same that Tchaikovsky had used for the second movement of his Symphony No. 1. Variation X is a mazurka and XI rounds off the first part of this movement.

The Variazione finale is one of enormous exuberance, vast proportions, and symphonic textures. It is actually a complete sonata-form movement in itself, with two themes in contrasting keys (A major and E major), a long development section, and a recapitulation. When its seemingly limitless energy is finally spent, the music changes character. Colors darken, the mood turns somber, headlong motion slows to a crawl. For a coda to this monumental work, Tchaikovsky brings back the trio's opening theme, now played loudly by the strings over a piano accompaniment of thundering chords and flashes of lightning. The great lament closes with a funeral march that recedes quietly into darkness ... blackness ... nothingness.

Performance Time: approximately 45 minutes

Composed between 1881 and 1882, the Piano Trio in A Minor, Op. 50, received its Carnegie Hall premiere in Carnegie Lyceum (now Zankel Hall) on November 22, 1899, with Samuel Franko, violin; Leo Schulz, cello; and Katherine Ruth Heyman, piano.

—Robert Markow

© The Carnegie Hall Corporation