The Pipa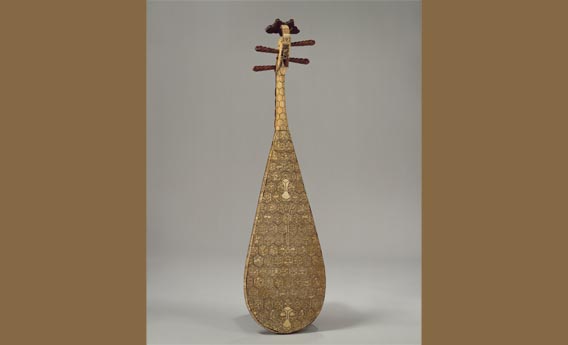 Known today largely as a solo instrument emanating from the conservatories, the pipa has links to ancient courtly and folk ensembles. A pear-shaped fretted lute with four strings, the pipa, like so many instruments, seems to have arrived in China from Central Asia and was already popular by the Tang Dynasty (618–907), scene of the first great world music boom; medieval poems and frescoes sing its praises. As higher frets were added, it has been held increasingly vertically, though some local folk traditions like nanguan of south Fujian, and the pipa of blind bards in Shaanbei, still maintain early traditions.
Like the qin, for all its links with Confucian "civil" ideals of harmony and moderation, the pipa is capable of expressing extremes of mood. The majority of the repertoire displays the delicate touches of the "civil" style, but a couple of celebrated "martial" pieces, imitating the sounds of battle, point the way to a more gritty percussive avant-garde use of the instrument. The more earthy folk style relates to the pipa's role in regional folk ensemble music (notably the "silk-and-bamboo" ensembles still thriving in the Shanghai teahouses) and in accompanying narrative-singing (where it is less common than the unfretted sanxian).
Most solo styles originate from the Shanghai region. Wu Man and her late master Lin Shicheng, a renowned exponent of the Pudong style, are part of a galaxy of modern pipa players that includes Liu Tianhua, Li Tingsong, Wei Zhongle, and Liu Dehai—and younger generations continue to emerge.